Did you know that Beaver County only has one covered bridge, which is at Brush Creek Park? It's on the outskirts of Beaver Falls, to the north east. To get to this wonderful park, take Route 68. There is a circuit that goes around the entire park, and at the end of it, on the right, is Beaver County's only cover bridge.
Beaver county's only covered bridge in an amazing setting.
The bridge is surrounded by natural beauty, which is most vibrant in the fall leaves. Don't forget to park in the right-hand car park before you cross the bridge. The park is lovely to photograph at any time of year, but especially in the fall with reflections off the lake.As you enter the park, the lake is on the left hand side.
---
Directions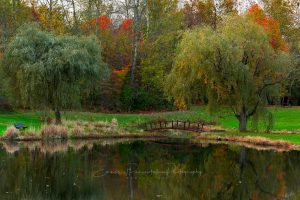 Google Maps Pin – link
Beaver County Tourism information on park – link
---
A suggestion for something to eat
I'm not a big fan of Mexican food, but Crave Mexican Grill on 3rd Street in Beaver is one of my favorites. They have a wide ranging menu and it is tasty food. Their open hours are Monday through Saturday, 11 a.m. to 8.30 p.m., and Sundays, 11.30 a.m. to 7.30 p.m.
Crave Mexican Grill
431 3rd St, Beaver, PA 15009
Phone: (878) 207-2121
check out their menu here – link
Crave's Facebook Page – link