So what is Fine Art photography? Nowadays it is so easy to pick up your iPhone or buy a camera, snap a few pictures, upload it on Instagram, and call yourself a photographer. All photographers deserve a place to love this form of art, but using photography as a hobby and using photography as work are two very different things. A Fine Art Photographer does more than take a photo that's in front of them. There is a lot more work that goes into just "snapping a few pictures". A Fine Art Photographer documents a vision, a style, a story – it is an artistic expression. A Fine Art Photographer is an artist, and Fine Art Photography is art.
Think of a painting or sculpture exhibition – not only are you there to enjoy what you're looking at, but the purpose is to hop inside of the artist's mind and understand the meaning or emotion behind each piece. Photography is the same concept – even though, sometimes, what you're looking at can be very literal. Fine Art Photography has some purpose – it is the responsibility of the artist to communicate that.
Yes, you can find a cheap and aesthetically pleasing picture from a big-name store, but does that picture have a story? Does that picture come from a computer, or does it come from an artist with a voice? Fine art is more than "Live Laugh Love" in your living room – But which would you rather have hanging on your wall?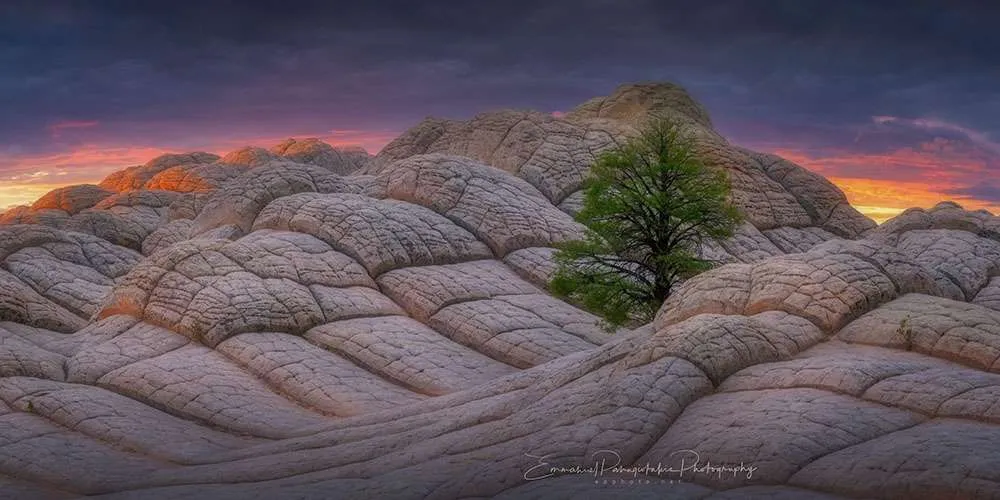 Take "Hope", for example – my photograph was taken in White Pocket, Arizona. This is a well-sought-after location and once I arrived, I fully understood why. Grey-colored rocky domes and ridges cover the land where sparse vegetation grows. Here, I found a lonely tree growing amongst the rock. I instantly fell in love with the view – but also, in my heart, I connected to what was in front of me. 
That lonely tree is me, growing through all the hardships around me – a narrative I think many of us can connect with. I came to the United States from Chios, Greece when I was a young man. I did not speak, read, or write English and was unfamiliar with the culture. I had to learn this all on my own. Teaching myself photography at the time in another language was especially difficult, as conversational English is different from educational terminology. Fast forward to now and I have created a family, and two businesses, and am still learning and persevering.
I look at this picture and see it as a reflection of myself, a reminder of where I came from, and a motivation to get to where I want to be. This is why I titled this piece "Hope". This is the story I am telling through this picture and this story is what separates me from other photographers. This is what makes me a Fine Art Photographer. I hope this blog helps give artists more credit for their work by educating the reader that Fine Art is different than what you can find at IKEA – as a lot of passion and hard work goes into their art.