Sarah Roberts works at the Beaver County Airport as office manager for ACES Aviation – one of the six flight schools in the area. She has been working at the airport for over 25 years! The Community College of Beaver County (CCBC) has a program where students enroll to start ground training for aviation. Here, students can learn how to fly real airplanes and earn all of the necessary certifications while taking their school courses.
As Office Manager, Sarah's main duties include: dispatching flights, billing students, and maintaining inventory for aircraft. When aircrafts are down, Sarah schedules maintenance and makes sure things are completed in a timely manner in order to keep flight schedules on track. A difficult part about Sarah's job is aircraft maintenance and bad weather.
When aircraft are down or when the weather is not the best for flying, Sarah has to rearrange the flight schedule according to the weather radar and aircraft availability in order to ensure students don't fall behind on their flying schedules. With unpredictable variables like weather and aircraft maintenance, it is important for Sarah to be able to work under pressure and sometimes be on-call!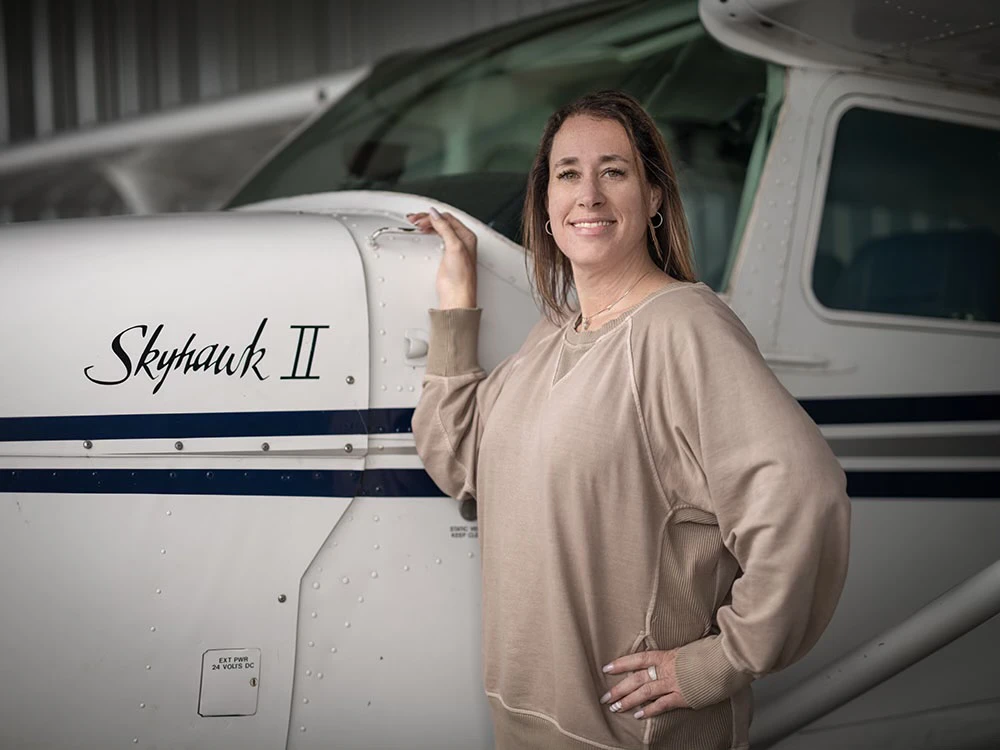 In 1993, she started her flight training at the Beaver County Airport and attended CCBC during her senior year of high school. After graduating high school, Sarah started working under the Beaver County Airport Director while also working as a dispatcher for the flight school she was attending at the time – all while still learning to fly! After getting her Pilot's License, Sarah began working for a charter company at the airport – booking flights & working as a flight attendant until that company shut down. From that point on, She's been working at ACES Aviation ever since – helping students earn their licenses!
Here are some interesting facts about the Beaver County Airport & ACES Aviation:
1.) The Beaver County Airport is the 3rd busiest airport in the state of Pennsylvania
2.) ACES Aviation Averages 23 flights a day (weather permitting)
3.) ACES Aviation is part of the #1 Aviation Training program in the nation, affiliated with CCBC
4.) Anyone can enroll at ACES to learn how to fly and earn their Pilot certificate – being a student is not a requirement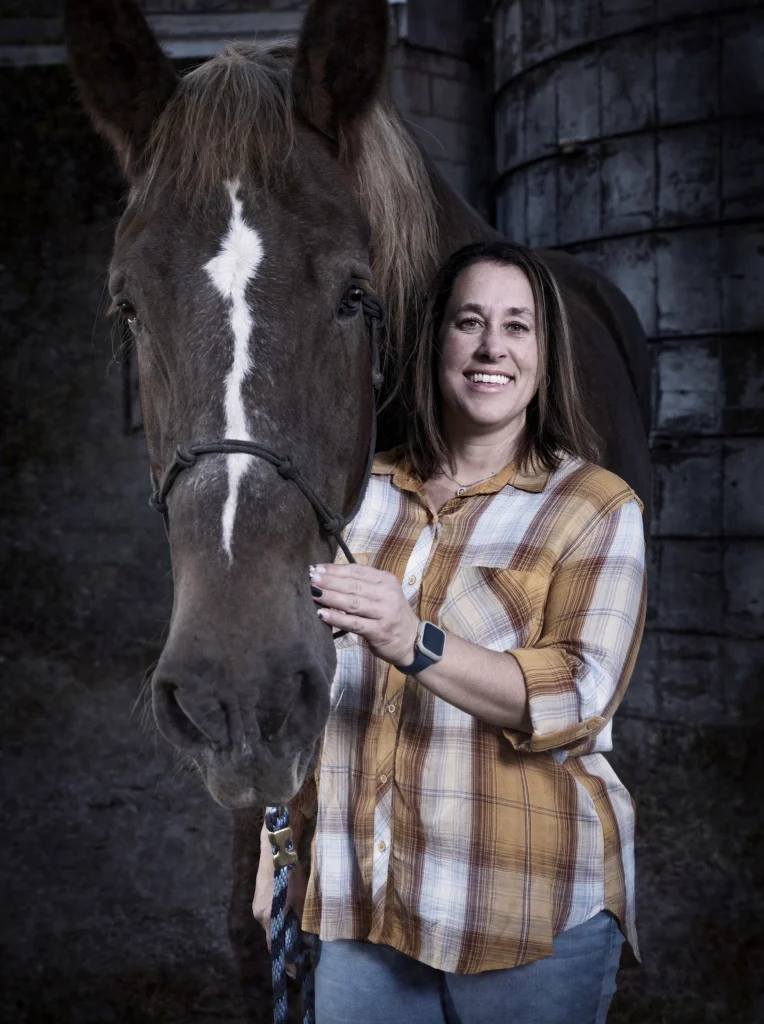 Sarah comes from generations of farmers. She lived on the family farm in Chippewa, PA since she was born. Corn, hay and oats were grown and harvested on her family's farm and on top of farming the crops, her family had many animals: cows, chickens, donkeys, goats, horses, etc. The family farm now only grows and harvests hay for the horses.
Sarah lives only a few minutes away from the farm – with her husband and Rottweiler, Jade. When Sarah isn't at the airport, she is at the farm baling hay or taking care of her animals – two horses (Dixie and Surge), a mini horse (Clyde), and a chicken (Hillary).
Dixie is a Belgian horse Sarah had since she was 27 years old. Now, Dixie is almost 20 years old with a new friend in the barn – a recently rescued Percheron named Surge. Belgians are work horses known as the "gentle giants" of horses. Dixie isn't a work horse on the farm, but she sure does live up to the name "gentle giant". Standing at 18 hands tall, she is a very well tempered and sweet horse who loves to eat peppermints as a snack!
Sarah is one example of the many people in Beaver County who works hard, and value family/generational traditions. If you see Sarah walking in Beaver with Jade, don't be afraid to say "Hello"!
Are you interested in a "Unique Individual – Portrait on Location" session?
Emmanuel is excited to announce the launch of "Unique Individuals – Portraits on Location." This isn't your typical headshot, but with Emmanuel's dramatic photography style, it will powerfully highlight your passion.
---
As Emmanuel is exploring a new type of portrait photography, he wants to share with you the unique stories behind them. We created a series called "Unique Individuals – The Heart of America", where we will showcase the portraits Emmanuel has taken. This will include a short biography with fun/interesting facts about each person. The portraits will highlight the person's passion, line of work, lifestyle, etc. Like many places, America is filled with hardworking, kind-hearted and passionate people, and we would love to tell you their stories through Emmanuel's lens.
---